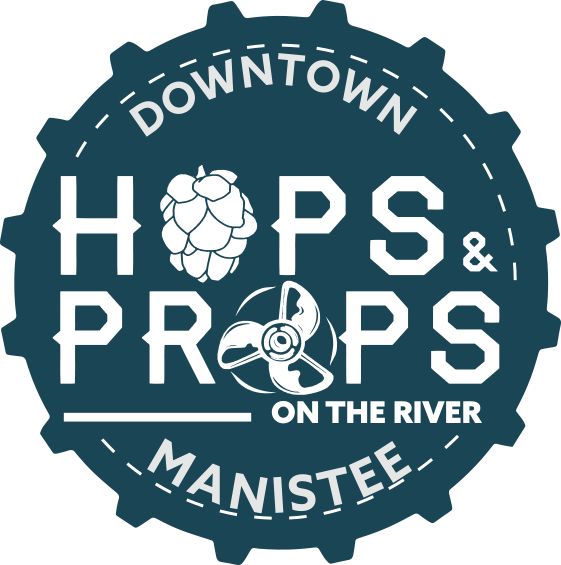 Join us Sept 21st, 2019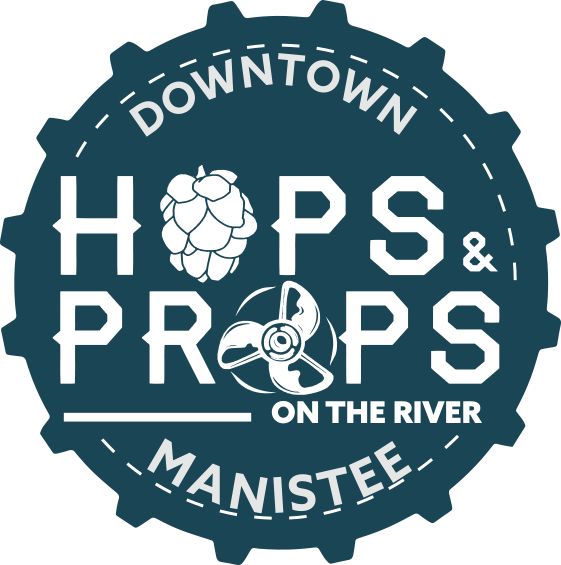 Enjoy Awesome Boats and Craft Beer
Join us September 21, 2019 at 2pm for the 8th annual installation of Hops and Props in Downtown Manistee
A Signature Manistee Event featuring classic wooden boats and Michigan Craft beer, cider and wine. Taste your way through over 100 beers from 35 Michigan Breweries, an assortment of classic boats, as well as new boats to get you out on the water while listening to great local music. Must be 21+ to attend.

Number of Craft Breweries in Attendance
Number of Craft Brews on Tap
Number of Hard Ciders, Meads & Specialty Spirits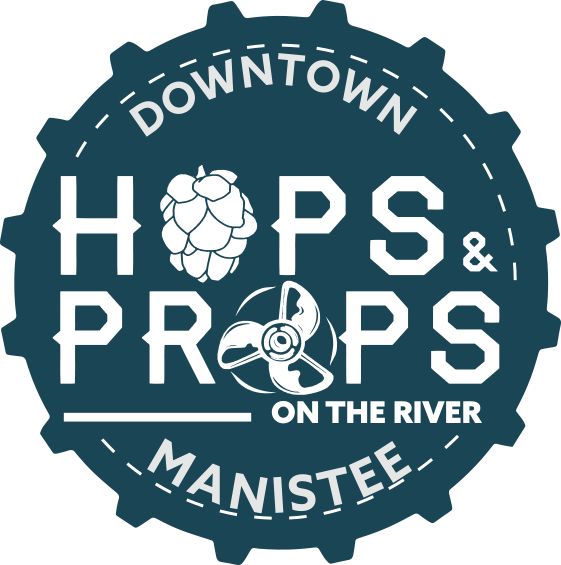 Time until the 7th Annual Hops and Props in Downtown Manistee
Advance Tickets $25 | At the Door $30
Ticket includes a Hops & Props glass (approximately 6 ounces) and 5 beer samples.
Additional drink tickets can be bought for $1 a piece.
Designated Drivers can purchase a separate wristband to gain entry for $5.
Purchase tickets in Manistee at the Chamber of Commerce, the Visitors Center & North Channel Brewing Company.
Purchase tickets in Ludington at Ludington Bay Brewing Co.
Or purchase tickets online below.
Stormcloud Brewing Co.
Rainmaker
Whiled Away
Perrin Brewing Co.
North South IPA
Smore Stout
Blonde Porter
Damsel in Distress
Cigar city
Tropical Invasion Pale Ale
Maduro Brown Ale
Mountain Town Brewing Co.
Trainwreck Ale
Iron Horse IPA
Lazy River Lager
Railyard Raspberry Wheat
Ridge Cider Co.
Raspberry Cider
Porch Sittin Cider
Carmel Apple Cider
Squeeze Cider
North Channel Brewery
Manistee's IPA
Salt City Blonde
Saison
Coffee Coconut Porter
Douglas Valley Winery
Caramel Apple Cider
Cohodas Red
Just Peachy Moscato
Loves Wines Winery of Ludington
Ship Faced
Stormfront
Michigan Apple Cider Table Wine
Razzelberry
Oskar Blues
Dales Pale Ale
Bee Well Meadery
Ginger Peach
King's Cherry
Apple Pie
Short's Brewing Company
Local's Light
Bellaire Brown
Soft Parade
Slum Lord
Iron Fish
Wile E. Coyote with Gin
Autumn Spiced Mule with Winter Wheat Vodka
Arbor Brewing Company
Tilted Earth
Violen Monster
Crystal Peacock
Euchre Pilsner
Beards Brewery
Oh the Citranity
Luna
Owl Madillo
Serendipity
Bell's Brewery
Octoberfest
Best Brown
Two Hearted
Ellison Brewery
Gnomes Amber
Crescent Fresh IPA
Dawn Street Pale Ale
Tiramisu Stout
Farmhaus Cider
Tropical Vibes
Trocken
Brunch
Classic
Founders Brewing Co.
All Day IPA
Mosaic Promise
Rubaeus
Solid gold
Grand armory
Wheezin
White Chocolate
Nutter
Crop Duster
Year Round Brown
LATITUDE 42
Bubba Kolsch
Michigan Honey
IPEH
Party at Moon Tower
Ludington Bay
Summer Fling
First Curve
Tangelo
Watermelon Wheat
Kolsch
The Mitten Brewing Co.
Mango Gold
Country Strong
Octoberfest
New Holland Brewing
Hoptronix
Ichabod
Mad Hatter
Tangerine Space Machine
Northern Naturals
Northern Star Hard Cider
Cranberry Ginger Apple Hard Cider
Sweet Orange Blossom Hard Cider
Right Brain Brewery
Luminous Lemon
Dead Kettle
Ceo Stout
Saugutuck Brewing Company    
Paled It
Oval Beach
Oak Wizard
Short's Brewing Company
Local's Light
Bellaire Brown
Soft Parade
Slum Lord
Starving Artist
CCR
Cool Papa
Boat Drinks
Following the event, the fun continues as local restaurants have their taps taken over by featured breweries from the Beer Festival.
---
Bluefish Kitchen & Bar
featuring: Ludington Bay & Saugatuck Brewing Company
TJ's Pub
featuring: Arbor brewing company & Starving Artist
Famous Flynns
featuring: Grand Armory
The Fillmore
featuring; Stormcloud
Manistee DDA  1(231) 398 – 3262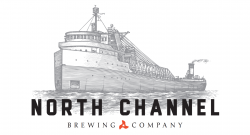 Knizacky Insurance Agency